Celebrating The 50th Anniversary of The Fantastic Four!
Mood:
celebratory
Topic: Comic Book History
The 50th Anniversary of the...

Fantastic Four!

First Seen On the Newstands This Week 50 Years Ago!

Topmost Photo: A Date Stamp Was Quite Often Placed On The Front Cover By Newstand Dealers For Return Purposes, As Publishers Would Stretch Out The 'Published Month' As Far Out As They Could, To Keep 'Returns' As Low As Possible!

-

Top Photo Right Column: Stan Lee Signing My Reader Copy Of The Fantastic Four #1 back at the 1993 San Diego Comic Con International. Having Comics Signed In The Early 1990s Was The 'Thing' To Do! Nowadays, CGC Considers That 'Scribbling'...!

Bottom Photo Right Column: 'Scribbling' Or Not... This Personalized Signature By Stan (The Man) Lee To Me Is Staying In My Personal Collection And Is Not For Sale, Period!

-

-
TODAY'S FEATURE - Blog #3483:
You know... I wish I could say that I saw a copy of the The Fantastic Four #1 on the newstands this week back in August of 1961!
Heck, I was alive back then, at nine years of age... But no, I didn't see it on the 'spinner rack' at my convenience store in Southern California...
How could I expect to, being on the West Coast, with spotty distribution to stores that carried comics out here?!
Sure, I would have probably recognized it as being one of those 'monster comics' that grabbed my attention, and made me realize that there were 'real people' that created comics book, see my blog about Journey Into Mystery #72, cover dated September of 1961, being the one that opened up my eyes to that fact, but there wasn't a standout 'brand name' on this comic book, nor any of the other comics this publisher printed at the time.
Most of my 'funnybooks' were published by 'Dell Comics' who proudly had their 'Dell Comics' logo box at the top left of the front cover! And so did the westerns with their photo covers... 'Dell Comics' right there on the top left of the front cover. And weren't "Dell Comics Are Good Comics"? My earliest comics were bought for me by my Great-Aunt & Great-Uncle, who must have been influenced by that slogan!
Sure there was a 'MC box' above the 10 cents cover price, but what did that mean to a nine year old kid?! Heck, the IND at the top left of the front cover could have been the publisher as far as I knew, (Like the Dell Comics)! Besides it was Canam Publishers Sales Corp. that was indicated as the Indicia Publisher, not Atlas Magazines, Inc. which was listed as the Indicia Publisher for Amazing Adult Fantasy, which is what 'Marvel Comics' had been originally known by, but ran afoul of the Comics Code Authority, (CCA), like so many others!
(Side note: 'MC' was the first 'Marvel Comics' brand in what we collectors think of in the modern day. But did you know there were only 177 of these comics with the 'MC' on the cover?! Here's a link to them! And FF #1 was not the first to display this. Journey Into Mystery #69 and Patsy Walker #95 were the first two to do so in June of 1961!)
Heck, the Dell TV western comics I coveted had photo covers and also 'publisher recognition', and the 'funnybooks' I was reading had recognizable names from cartoons!
There was nothing that would have made this comic book stand out from the rest on the spinner rack at the time, and probably would have been placed at the bottom of the rack because of that...
So I missed this issue #1, and then #2 also of the Fantastic Four series.
It wasn't until sometime in December of 1961 with issue #3 (cover dated March of 1962), that the Fantastic Four came into 'existence' for me!
Why?!
That issue of Fantastic Four had costumes AND what looked like a flying bathtub! Now that was a cover that grabbed my attention! And what was that about at the top of the comic book cover, right after the FF masthead... "The Greatest Comic Magazine In The World!!". That alone would have made me pick it up just to see why!
It took a while for me to purchase a 'reader copy' of issue #1, which I had Stan Lee personalize / sign for me at the 1993 San Diego Comic Con International, as seen above in the top right photos.
Yet all these years later, I've go to admit that the first 100 to 150 issues of the Fantastic Four from 1961 - 1974 were the ones that kept me collecting comics and actually started me selling my duplicates, first to a local San Diego comics dealer, Richard Alf, and then in 1972 at the El Cortez Hotel during that year's SDCC!
The 'breakup' of Stan & Jack in 1970 affected me more than the 'breakup' of the Beatles! Seriously! And I had a great record collection at one time, (which I started selling off at the Capitol Records Collector Meet in Hollywood in the mid 1970s, see this blog #3296 for details). So that breakup which came first was tough...
Today, it is hard for me to imagine that the Fantastic Four has turned 50 years old this week...
And that just a couple of weeks ago I attended the 50th Anniversary of Comics Fandom party at the 2011 San Diego Comic Con International. See this link for blog #3468 and this link for additional photos from that party not used in the blog.
I do know this though...
If it hadn't been for the FF with Stan & Jack & Dick & Joe & Chic & Vinnie & Wally & on & on... I woould have probably given up on 'funnybooks' a long time ago!
You might not know that during the 'old days', pre-Silver Age of Comics, that comics editors would recycle comics stories every five (5) years. Because that was how fast kids would 'outgrow' them at the time... So the editors could reuse a storyline because the new crop of kid readers likely had not seen the story before!
For me, it was because Stan Lee & Jack Kirby created this comic book series and others following it for an 'older crowd', i.e. high school & then the college crowd in the mid 1960s, that I continued buying the FF for all these years, well, until the 3rd time when Marvel Comics rebooted the FF with a new #1 issue. That 'turned me off'...
And now, I don't read the FF anymore, especially the 'new FF', titled 'FF' or 'Future Foundation'. Don't get me started...! And no, 'Ultimate Fantastic Four' that ran for 60 issues from February of 2004 - February of 2009, didn't keep my interest either... When I gave up being an FF 'completist', I stopped buying titles that I only bought to have a 'complete' collection of the FF...
But I don't want to end on that note here today...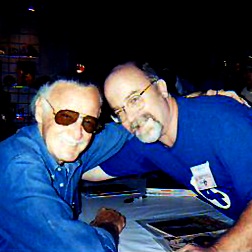 I want to thank and remember those comics creators that brought me so many years of enjoyment, starting in 1961! I wasn't able to meet in person all of those that helped make the Fantastic Four what it became. Basically because I was on the West Coast, and didn't travel back East for comic cons. So I only had the pleasure of seeing those that made it to SoCal comic cons, including Stan Lee, as seen to the left, as well as Jack Kirby, John Buscema, John Romita Sr., and more.
It has been a fun ride through time, and I was pleased to finally see on the BIG SCREEN... The Fantastic Four that I grew up with, no matter whether or not the writers or directors got it right or not. I never thought I'd see the day that those 'funnybooks' characters would be all over in mass media. I've enjoyed seeing seeing my favorite comic book title of all time finally make it to the movies!
Happy Anniversary to the Fantastic Four AND to those that had a hand or two in creating and keeping it going strong for so many years.
I for one am glad that The Fantastic Four #1 hit the newstands 50 years ago this week!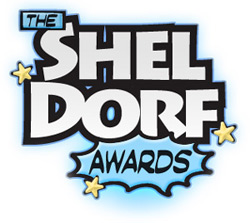 ~Michael D Hamersky - who is asking you for your vote in the current voting going on over at The Shel Dorf Awards web site. I was nominated for 'Comic Blogger of the Year' on Monday, August 8th! While being honored to be nominated, I'd also like to win! The competition has some other good nominees for the same category I was nominated for, so I'm asking for your help on this!
If you have enjoyed this blog or any of the others in the now over 3,482 blogs in this series of mine, I'd appreciate your vote!
Here is a direct link to the voting page. 'Comic Blogger of the Year' is the category, and 'Michael Hamersky On Comics' is the name I'm listed as to vote for.
Here is a link to blog #3481, where I went more into depth on this topic.
My thanks to any of you that take the time to vote for me!
---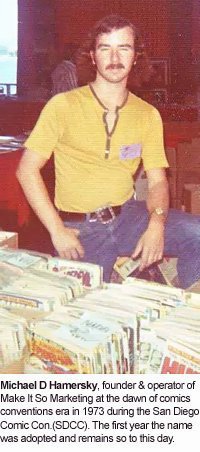 NOTE FROM THE BLOGGER:
My thanks again to all of YOU reading this blog and our archived blog posts, now at 3,483 total posts in number! I do appreciate your continued reading and support of this Blog!
BTW, You can 'follow' this blog by clicking the 'Follow' Button at this NetworkedBlogs app link! We currently have over 2,518 'Followers'! Thanks to ALL of YOU that have already clicked that button!
And for those of YOU that haven't yet... I would appreciate it if YOU would!!!
~ Michael D Hamersky
Note: My online 'Local' Comic Book Shop (LCBS), carries many different genres of comics, magazines, graphic novels, and comic con promotional items. Possibly even copies of the item(s) that was mentioned here today...!
If I have it... You can find it 'Under The Big Top Of Comics' at:
http://www.ComicBooksCircus.com/
Web Page Note: This blog post is written for the IE Browser standards. Chrome, Safari, Netscape, Firefox and the other browsers serve the page up differently, sorry about that!
The screen display resolution is best seen at the setting of 1024 x 768 on your laptop or desktop computer. Note: As of Monday, June 27th, 2011, I'll be using my new laptop, where the default resolution is 'higher', so there may be some temporary glitches until I am used to the new resolution.
NOTE: All images and characters within this blog post are copyright and trademark their respective owners.

Comics Creators: If you are breaking into, or already work in the comic book industry or other pop culture productions, you are welcome to email or mail us press releases, news items, and updates that you feel would be of interest to our blog readers. Including YOUR own works!
To mail printed items to us for possible review, send to:
Make It So Marketing Inc., PO Box 130653, Carlsbad, CA 92013

Also, if you are a Facebook member, I would have liked you to send me a 'Friend Request'. However, I have reached the maximum limit of 5,000 Facebook Friends and Fan pages already, so I've added a New 'Facebook Fan Page' so that even more of YOU can 'Like' what I am doing, and be interactive with me and others there. Here is the link to that 'Facebook Fan Page': Michael D Hamersky On Comics! Please click the 'Like' button on that page!
---
Posted by makeitsomarketing at 12:01 AM PDT
Updated: Friday, August 12, 2011 8:55 AM PDT