My Take On: If You're CRACKED You're Happy - Volume 1: The Early Years! By Mark Arnold
Mood:
caffeinated
Topic: Comic Books - New
If You're CRACKED You're Happy

Volume 1: The Early Years!

By Mark Arnold!

Above Top Photo: Mark Arnold at his booth in the Indy Press Section of the 2011 Comic-Con International!

-

Left column top photo: A close up of the front cover to Volume 1: The Early Years - If You're Cracked You're Happy. There is a Volume 2, which is not reviewed here!
TODAY'S FEATURE - Blog #3477:
I've met Mark Arnold before at earlier comic cons, and have blogged about him and some of his works in this blog before, as seen here.
However, I wasn't aware of his new two volume book series, titled: If You're Cracked You're Happy Volumes 1 (Won) & 2 (Too), until I saw him at the recent 2011 Comic-Con International: San Diego.
Mark is pictured at the above right holding a copy of Volume 1, which I am reviewing here today. Volume 2 has not yet been read as of this blog, as I do get backed up with materials that I pick up at comic cons such as Comic-Con.
But I did want to mention Volume 1, as I just finished it, and found it to be something I believe has been long overdue to be printed...!
You see, 'Cracked' was one of those humor magazines in the vein of 'Mad', 'Sick' and several others during the previous decades when these type of mags were in full bloom. However, unlike 'Mad', 'Cracked' hasn't had a serious study that has been placed in print to my knowledge.
Mark Arnold has taken care of that! How? Here's the promo for the book:
"Sick beat the pants off Cracked when they were in competition." - Joe Simon,former Editor of Sick magazine and Captain America co-creator
"A book on Cracked; a sure-fire way to land you on the New York Times bestseller list!" - Andy Simmon, former National Lampoon and Cracked Editor
"It sounds like an interesting and formidable journey you've taken on. The Cracked history is worth mining, I imagine, and from my limited knowledge I don't believe anyone has done a complete effort yet. If you need anything I can provide please let me know. My memory is as faded as my jeans but I'll do what I can. Thanks for taking the time to send an email that's not about Debt Relief, Mortgage Rates or Penile Enlargement...." - Kit Lively, former Cracked writer
For over 40 years CRACKED was the best-selling humor magazine in the world... if you don't count MAD! A remarkable and amusing retrospective by author MARK ARNOLD, recounting the secret origins of the magazine, covering its history with former and future MAD and MARVEL Comics contributors JOHN SEVERIN, JACK DAVIS, DON MARTIN, BILL ELDER, JACK KIRBY, STEVE DITKO and AL JAFFEE, along with CRACKED veterans BILL WARD, DON OREHEK, GEORGE GLADIR, as well its responsibility for launching the careers of award-winning alternative cartoonists including DAN CLOWES, PETER BAGGE and BOB FINGERMAN. Crammed with creator interviews, rare photos and art and a complete checklist of every issue! A must for comics fans and purveyors of popular media!
That definitely sets the stage for what is in this book!
Here's why it is in two volumes... The first 161 pages of this first volume are devoted to the first thirty something years of the magazine's history. Starting on page 163 is the Cracked Magazine Index, which is well laid out and in readable print size!
I found when reading the early history, that it had quite a few comics creators that I would later come to know better in the 'Marvel Age of Comics', as the magazine 'Cracked' came into being in the year 1958, right after the infamous 'Atlas Implosion'! Which is why I recognize so many names of those working at Cracked during its formative years!
Even though some history is shown at websites such as Wikipedia for the Magazine Cracked, and the Wikipedia Entry for Cracked.com, or its own web site, Cracked.com, I've never really known much about the magazine itself.
That's because like so many others that have purchased this magazine in the past off of newstands, or comic book shops... I bought it because of the John Severin art, and the fact that it was between months that 'Mad' came out. Hey, I'm being honest!
Additionally, I wasn't aware of the earliest history of the magazine, as the magazines were more money than comic books, and ten cents or twelve cents were about what I had to buy comics. Humor magazines just weren't affordable, especially since I was an early M.M.M.S. member, and bought every Marvel Comic there was! Hey, there weren't that many back in the early years of Marvel Comics, but it took all my allowance!
I found that Mark Arnold's multiple interviews with Cracked alumni to be a good basis for presenting the early history, and really enjoyed the first 161 pages of this magazine. He really put the whole early years into perspective and in a very readable way. Not cut and dried at all, which was good, becuase it was about a humour magazine after all!
If I was a collector of 'Cracked Magazine', I would have found the Index - Part 1 to Cracked Magazine to be of immense value. Since I am not a collector of 'Cracked', but instead a reader of it, I found that when using the Index, I made notes to add to my 'want list' for certain issues of Cracked.
This is what a a history of a magazine should be!
A living, breathing history, with people's recounts and insertions of what was happening in the 'real world' at the same time.
Plus a handy index to help those wanting certain issues for re-reading stories that they once had as a kid, or for those who enjoy collecting issues done by certain creators, such as Ditko, or Kirby!
I'm going to give this a 'comic book grade' of NEAR MINT (NM) 9.4 out of a possible 10.0 grading scale. That's because I believe that those that have even a casual interest in 'Cracked' magazine will enjoy the first part of the book immensely, and will find the Index to be of particular value in tracking down what issues they would like to read. After all, there is a long publishing history presented here for this magazine that started in print in 1958, and survives today in a different format on the web!
Here is the ordering info for the book:
Paperback: 562 pages
Publisher: BearManor Media (June 21, 2011)
Language: English
ISBN-10: 1593936443
ISBN-13: 978-1593936440
Product Dimensions: 9 x 6 x 1.1 inches
Until recently I would have referred you to Amazon with a link, but with Amazon & the State of California fighting over taxes...and Amazon closing down their affiliates in California... I'm going to refer you directly to the publisher's web site for both volumes: Bear Manor Media!
Or, if you are attending an upcoming comic convention, check to see Mark Arnold is attending that one also, and buy direct from him! For more info on his upcoming appearances, or where else you can buy this 2 volume set... Go to his Facebook Fan Page for this series, If You're Cracked You're Happy, and 'Like' it!
My thanks to Mark Arnold for bringing his two volume set to my attention at the Comic-Con / SDCC last month! I look forward to reading the second volume and reporting back on that one in the near future!
~Michael D Hamersky
(Unabashed Plug: And yes, I do have issues of Cracked Magazine listed at my online comic book shop, as well as Mad Magazine, and on occasions, Crazy, Sick, etc.)
---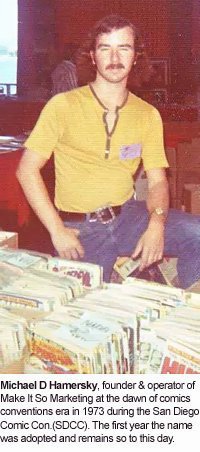 NOTE FROM THE BLOGGER:
My thanks again to all of YOU reading this blog and our archived blog posts, now at 3,477 total posts in number! I do appreciate your continued reading and support of this Blog!
BTW, You can 'follow' this blog by clicking the 'Follow' Button at this NetworkedBlogs app link! We currently have over 2,503 'Followers'! Thanks to ALL of YOU that have already clicked that button!
And for those of YOU that haven't yet... I would appreciate it if YOU would!!!
~ Michael D Hamersky
Note: My online 'Local' Comic Book Shop (LCBS), carries many different genres of comics, magazines, graphic novels, and comic con promotional items. Possibly even copies of the item(s) that was mentioned here today...!
If I have it... You can find it 'Under The Big Top Of Comics' at:
http://www.ComicBooksCircus.com/
Web Page Note: This blog post is written for the IE Browser standards. Chrome, Safari, Netscape, Firefox and the other browsers serve the page up differently, sorry about that!
The screen display resolution is best seen at the setting of 1024 x 768 on your laptop or desktop computer. Note: As of Monday, June 27th, 2011, I'll be using my new laptop, where the default resolution is 'higher', so there may be some temporary glitches until I am used to the new resolution.
NOTE: All images and characters within this blog post are copyright and trademark their respective owners.

Comics Creators: If you are breaking into, or already work in the comic book industry or other pop culture productions, you are welcome to email or mail us press releases, news items, and updates that you feel would be of interest to our blog readers. Including YOUR own works!
To mail printed items to us for possible review, send to:
Make It So Marketing Inc., PO Box 130653, Carlsbad, CA 92013

Also, if you are a Facebook member, I would have liked you to send me a 'Friend Request'. However, I have reached the maximum limit of 5,000 Facebook Friends and Fan pages already, so I've added a New 'Facebook Fan Page' so that even more of YOU can 'Like' what I am doing, and be interactive with me and others there. Here is the link to that 'Facebook Fan Page': Michael D Hamersky On Comics! Please click the 'Like' button on that page!
---
Posted by makeitsomarketing at 5:07 AM PDT
Updated: Friday, August 5, 2011 6:26 AM PDT