Vinnie's Take On: Jim Henson's Fraggle Rock Volume Two - #1 of 3
Mood:
a-ok
Topic: Comic Books - New



-

Above Photo: The Front Cover of Jim Henson's Fraggle Rock, Volume 2 - Issue #1 of 3, with Cover A shown.

-
TODAY'S FEATURE - Blog #3338: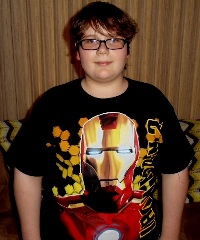 (Vinnie) Today I will be reviewing Fraggle Rock Volume 2 Issue #1. I was over at my dad's house this past weekend, so I asked if there were any new publications to review that were age appropriate, and there were.

I found the Fraggle Rock, (pictured above), in the 'to be reviewed stack', so I asked if I could read and blog on this, and my dad said sure, as he had review blogged a different issue from the first volume!

Keep in mind that this is an anthology comic, so in this case, there are three stories, each by different people.

Fraggle Rock Vol. 2 - #1 (of 3)

(W) Grace Randolph, Jake Forbes and ose LeFavi (A) Chris Lie, Mark Simmons, Cory Godbey, and Katie Cook (Cover) David Petersen and Chris Lie (50/50 split)

Here is what the publisher has for the promo blurb:

Get ready to rock -- Fraggle style! Archaia and The Jim Henson Company follow up their highly acclaimed Fraggle Rock anthology series with a brand-new line of comics, featuring the antics of Gobo, Mokey, Wembley, Boober and Red! Worry is indeed for another day, as this new series features a stellar lineupof talent including: Grace Randolph (Muppet Peter Pan, Marvel Her-oes), Chris Lie (Return to Labyrinth), Jake Forbes (Return to Labyrinth) and Ross Campbell (Wet Moon, Shadoweyes)! Featuring a cover from Mouse Guard's David Petersen and activity pages from fan-favorite Katie Cook.

Story 1: Wembley and the Great Dream-Capade
This story was my favorite, and by far the longest, covering over half of this book, and 20 pages long. The art was amazing as it wasn't too realistic, yet not too cartoony, which is what I think Fraggle Rock is supposed to represent. The coloring was vibrant and definitely no where close to dull. The story was understandable, didn't leave me questioning anything, told a great tale, and most of all, told a great moral.

Story 2: Boober and the Ghastly Stain
This story was my second favorite, and was the shortest, with only four pages. The art didn't seem as flowing or graceful as the first story. The style kept changing and it seemed too realistic at some times, and too cartoony at others. The story was building excitement as the story went on, but it didn't really do anything with it by the time it was over.

Story 3: Brave Sir Wembley
This story was my least favorite, and was second longest, with 6 pages. The art was different in a way I didn't like. I don't know how to explain what it was. The coloring was very dull and dark, which I felt was the exact opposite of what Fraggle Rock is supposed to be. Even most of the characters looked different, so I could only know who was who based on their shirts, as it was apparent they wear the same ones all the time. The story was kind of awkward, dark,and mysterious. I just didn't really care for it.

Overall, I thought this was okay, but some of the stories I rated higher than others. Grading anthologies are hard to do! I give this overall comic, Fraggle Rock Volume 2 Issue #1 a Very Fine / Very Fine Plus (VF/VF+), an 8.25 out of a 10.0 grade scale.

I would recommend this to kids 13 and under, or to the parents of kids 10 and under to read it with them.

~Vinnie!
-------------------
(From Michael:) Note to those reading this blog post: Fraggle Rock Vol 2 #1 of 3, went on sale: January 19th... Check it out TODAY at YOUR LCBS to pick up a copy!
Retail Price $3.95 Page count: 32 pages
Format: saddle bound, 8" x 8", full color
All ages
Here is the link to Archaia so that YOU can purchase either the single volumes or the collected work when published, if YOUR LCBS doesn't have it in stock.
Here is the Facebook Fan Page for Archaia Entertainment, to keep up with what this publisher is presenting next.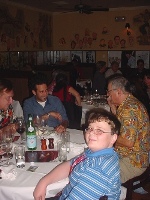 Note: Vinnie makes it to as many comic cons with me as he can. He collects the 'Amazing Spider-Man' comic book series, but is open to read other titles from publishers that print titles that are age appropriate for him. He also has been attending 'behind the scenes' events, such as the one he blogged about ht here: Vinnie's Special 'Look at The Captain Rochester Party for the Artists' at the recent 2010 Comic-Con International: San Diego! He really had fun meeting and having dinner with Sergio Aragones, Bob Burden, Scott Shaw! and others there at this exclusive after hours Comic-Con Party in San Diego!
Also...If YOU liked Vinnie's guest review blog today, you may also enjoy reading Vinnie's other reviews on: Mouse Guard - The Black Axe #1 of 6, Bear and Fox #2, Space Punks #1, The Daughters of Merlin #1, Sea Ghost #1, Mouse Guard: Legends of the Guard #4 (of 4), Clutch Cargo DVD, The All New Super Friends Hour Season 1 DVD, The Ultimate Underdog Collection Volume 1, Planet Hulk, Coraline, Ponyo, X-Men Origins: Wolverine, Sonic the Hedgehog TPB Vol 1, Cloudy With A Chance of Meatballs, The Possum #1 comic book, Vinnie's Take on Berona's War: Field Guide, just to name a recent few!
Thanks Vinnie, for guest blogging here today!
~Michael D Hamersky
---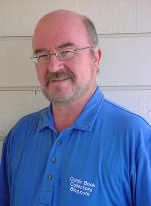 My thanks again to all of YOU reading this blog and the archived blog posts, now over 3,335 total posts in number! I do appreciate your continued reading and support of this Blog!
BTW, You can 'follow' this Blog by clicking the 'Follow' Button at this NetworkedBlogs app! We currently have over 2,195 'Followers'! Thanks to ALL of YOU that have already clicked that button! And for those of YOU that haven't yet... I would appreciate it if YOU would!!!
~ Michael D Hamersky
Note: My online 'Local' Comic Book Shop (LCBS), carries many different genres of comics, magazines, graphic novels, and comic con promotional items. Possibly even copies of the item that was reviewed here today...!
If I have it... You can find it 'Under The Big Top Of Comics' at: ComicBooksCircus.com.
If it isn't available in my online 'Local Comic Book Shop, (LCBS), then you may be able find it in my Amazon affiiate link, as seen here: Comics & Graphic Novels
at Amazon!
Web Page Note: This blog post is written for the IE Browser standards. Chrome, Safarai, Netscape, Firefox and the other browsers serve the page up differently, sorry about that!
The screen display resolution is best seen at the setting of 1024 x 768 on your laptop or desktop computer.
NOTE: All images and characters within this blog post are copyright and trademark their respective owners.

Comics Creators: If you are breaking into, or already work in the comic book industry or other pop culture productions, you are welcome to email or mail us press releases, news items, and updates that you feel would be of interest to our blog readers. Including YOUR own works!! (Note: I don't list my email address here, due to 'spambots' gathering it and 'spamming' me.
To mail printed items to us for possible review, send to:
Make It So Marketing Inc., PO Box 130653, Carlsbad, CA 92013, USA

Also, if you are a Facebook member, I would have liked you to have sent me a 'Friend Request'. However, I have reached the maximum limit of 5,000 Facebook Friends and Fan pages in my network already, so I've added a New 'Facebook Fan Page' for myself so that even more of YOU can 'Like' what I am doing, and be interactive with me and others there. Here is the link to that 'Facebook Fan Page': Michael D Hamersky On Comics! Please click the 'Like' button on that page!
---
Posted by makeitsomarketing at 4:29 AM PST
Updated: Tuesday, February 1, 2011 12:40 PM PST