John Lustig's LAST KISS Is Back In The Newspaper Business!
Mood:
chillin'
Topic: Comic Books - New
John Lustig's LAST KISS...

Is Back In The Newspaper Business!

Above: John Lustig and Tina LoSasso at the 2010 Long Beach Comic Con!




-
TODAY'S FEATURE - Blog #3323:
I met John Lustig and his wife Shelagh Lustig a few years back at a comic con. This after reading John's LAST KISS feature in Comic Buyer's Guide for several years!
I have mentioned John's works before in my Facebook pages and in this blog as attending certain comic cons, but hadn't devoted a full blog post to his works. So I'm going to correct that here today!
John gave my wife, Tina LoSasso, and myself some LAST KISS items at the recent 2010 Long Beach Comic Con, (LBCC), including two issues of his LAST KISS comic book series that ran for a short time back in 2001 - 2003. There were a total of four issues in this series from Shanda Fantasy Arts. John has a limited number of Issue #1, so he sells those only at comic cons at his table. The others have been available for purchase via the mail, along with other merchandise with LAST KISS logo / theme / etc. at the main web site LastKissComics.com!
As I stated at the top of this post, I have liked this feature since first seeing it in Comic Buyer's Guide as a 'cartoon' feature. I missed out on reading the 4 issue set of the comic, which is why I never blogged about it. However, after reading issues #2 & 3, my respect for what John has done to date has increased! Those two issues were very well crafted for a comic book print format!
So what is 'LAST KISS' all about?
Here's what the web site states:
Pairing vintage comic art with hilarious, new dialog by Disney veteran writer John Lustig, Last Kiss revels in the absurdities of love, lust and 'life with lip.'
The series originated when Lustig bought the publishing rights to a romance comic book series from the 50′s and 60′s, and started rewriting the stories for fun. Since then, the re-dialogued comics have been a popular feature in newspapers, magazines, comic books and greeting cards.
Today Last Kiss is gaining popularity and is also available on e-cards from JibJab.com and greeting cards (late 2009)from NobleWorks. Check lastkissinc.com for the latest comic, news and product launches.
What about John Lustig, himself?
Here's what the web site reveals about him:
A top Disney creator for over 20 years, John Lustig has also written outrageously silly comics for Marvel, Viz and more. He is best-known for his oddball series, Last Kiss, which features old comic book art with witty new dialog.
Before comics ruined his brain, Lustig was a newspaper reporter and columnist–covering everything from mass murders to school lunch menus. (Thankfully, never in the same article!)
In 2001, Cartoonist Northwest presented Lustig with its highest award, the Golden Toonie. Lustig lives in Seattle with his wife and a giant, insane cat.
And now, as the title of this blog post states...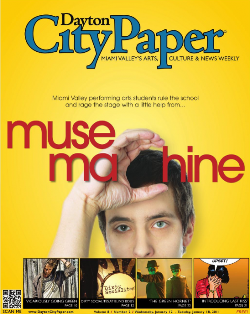 John Lustig's LAST KISS Is Back In The Newspaper Business!
I'll re-print what John posted on his web site:
Last Kiss is back in the newspaper business. As of today, Last Kiss will be appearing in every issue of the Dayton City Paper. Yes, I'm excited! Today Dayton, tomorrow the universe…or at least maybe Akron, OH.
Congrats, John! And here's to a whole new readership finding out about your great works!
Oh, and before I forget... I was waiting for Tina to blog about the above issue #3 of the LAST KISS comic book series, but she has been so busy with all of her clients book launches that she hasn't made time to write a blog about this issue or #2. However, she enjoyed reading the issues, and also the regular cartoons posted by John on Facebook.
So I'll post my own rating here for the issue above...
Review Rating: 9.4 NEAR MINT (NM) out of a possible 10.0 Comic Book Grading scale. There is a LOT of work on taking the old comics and re-scripting them into a saleable comic book. I can see that quite easily, and being a guy that used to buy romance comics for the artwork, (Jack Kirby, Gene Colan, John Romita Jr., John Buscema, Don Heck, etc.), I can enjoy the concept that John Lustig brings to the genre!
Lest I forget, here's John Facebook Fan Page for Last Kiss, which I urge YOU to 'Like'!
As well as John's web site for LastKissComics.com where YOU too can purchase these goodies!
--------------
My thanks to John and Shelagh Lustig for showing Tina and myself all the 'New' and 'Old' LAST KISS items they had for sale at the 2010 Long Beach Comic Con!
PLUS: My thanks again to all of YOU reading this blog and our archived blog posts, now over 3,320 total posts in number! I do appreciate your continued reading and support of this Blog!
BTW, You can 'follow' this Blog by clicking the 'Follow' Button at this NetworkedBlogs app! We currently have over 2,145 'Followers'! Thanks to ALL of YOU that have already clicked that button! And for those of YOU that haven't yet...I would appreciate it if YOU would!!!
~ Michael D Hamersky, of 'Michael D Hamersky On Comics' - my New Facebook Fan Page, and Facebook Comic Con | Make It So Marketing - my Facebook Group Page which is under the 'virtual umbrella' of 'Facebook Comic Con'! Plus of course this blog...
ComicBookCollectorsBlog.com
!

Note: Our online comic book shop carries many different genres of comics, magazines, graphic novels, and comic con promotional items at the link seen below.
http://www.comicbookscircus.com/
---
"Hammering Out the Web For You Since May 12th, 1998!"

Note: If you are breaking into, or already work in the comic book industry or other pop culture productions, you are welcome to email us press releases, news items, and updates that you feel would be of interest to our blog readers. Including YOUR own works!

To mail printed items to us for possible review, send to:

Make It So Marketing Inc.
PO Box 130653
Carlsbad, CA 92013

ComicBooksCircus.com - It's Under The Big Top Of Comics! Click the Above Circus Tent to See Our Current Listings!

My thanks to those of YOU that have read today's blog post! I do appreciate that!

For those of you that didn't know me before today... I first set up as a 'dealer' at the 1972 San Diego West Coast Comic Con (SDCC) at the El Cortez Hotel. So I've been around comic conventions for a little while, LOL!

My wife Tina and I now have an on-line exhibitor (dealer) table at the first "virtual" comic con titled the "Facebook Comic Con" (FBCC)! Plus I have a chapter in a new book that was just published in December of 2010, that is pictured above, "Gotham City 14 Miles"! Click here to become a 'Fan' of the GC14M Facebook Fan Page!

You can view our dealer table and interact with us there on Facebook by clicking this link, which takes you to our table named: 'Facebook Comic Con | Make It So Marketing'.

So if YOU are a Facebook member, please 'join' our Facebook Comic Con - Make It So Marketing exhibitor table for updates, specials, links to this blog, and other wall comments that we post every day!


Also, if you are a Facebook member and would like to also join my Facebook Network, feel free to send a 'friend request' to 'Michael D Hamersky'. Please Note: I have reached the maximum of 5,000 Facebook Friends and Fan pages already, so it might be a while before I am able to accept your request. Just send a message along with the invite that you saw my Blog!

-------------------

Talking about comics: if YOU are a comics creator, (writer, penciler, inker, colorist, letterer, etc.), OR even a Comics / Magazine Publisher, feel free to contact me regarding YOUR works for a possible mention / review!

I've made a special blog post about: "How To Best Submit YOUR Publication For Possible Review!" for those creators / publishers that would like to possibly have their publications mentioned or reviewed. Just click on the link provided in this paragraph!

~Michael @ ComicBookCollectorsBlog.com

WEB PAGE NOTE: This blog post is written for the IE Browser standards. Chrome, Safarai, Netscape, Firefox and the others serve the page up differently, sorry about that!

The screen display resolution is best seen at the setting of 1024 x 768 on your laptop or desktop computer.

NOTE: All images and characters within this blog post are copyright and trademark their respective owners.
Posted by makeitsomarketing at 6:05 AM PST
Updated: Thursday, January 13, 2011 7:21 AM PST