Our Take On... The Green Hornet Film!
Mood:
chillin'
Topic: Comic Book Movies
Our Take On...

The 2011

Green Hornet

Movie!




-

To the Left: Michael D Hamersky & Tina LoSasso After Viewing the Green Hornet 2011 Film

-

Above: Michael D Hamersky & Vinnie After Viewing the same film!
TODAY'S FEATURE - Blog #3325:
Tina and I have been fighting these bad colds we picked up in Las Vegas over the Holidays Vacation that we took.
However, my youngest son, Vinnie, was visiting us this weekend, and he expressed his desire to see the Green Hornet film that came out on this past Friday.
Well... Since I was interested in seeing what the 2011 Black Beauty would do in the film... We took in an afternoon matinee yesterday.
Here are 'Our Takes' (reviews) on the film.
Please Note: SPOILER WARNINGS AHEAD!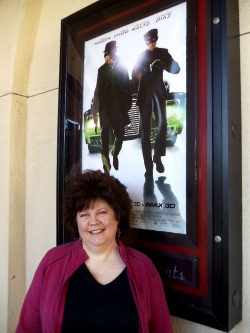 First: Tina's 'Take':
(From a mainstream movie goer with recent comics knowledge through exposure the past nine years of being married to a comics geek)
The Green Hornet movie is similiar to the 1960's tv series in one sense: Kato and The Black Beauty are, again, the entertainment highlights.
I went into the movie with low expectations. Michael has been ragging on the casting for over a year. And after being dragged to The (not so) Incredible Hulk (Ang Lee version), I was reluctant to see another "green" comic book movie. I'm glad to say I wasn't expecting much and I wasn't disappointed.
Highlights for me:
Kato, Jay Chou as Kato, Kato beating the crap out of Britt Reid
All the Black Beauties
The soundtrack lifted otherwise boring scenes...loved hearing Gangsta Paradise and seeing Rogen cut short
Hearing the Flight of the Bumblebee theme from the original tv show and seeing the swirling hornet (Credits at the end of the film)
The silly, implausible, action vs. the typical CGI action found in most comic book movies
Lowlights:
Seth Rogen
Seth Rogen's "comedic" dialogue
The slew of underdeveloped supporting characters
(did I mention?) Seth Rogen as Britt Reid
In the original tv series, Bruce Lee as Kato had me and my brothers running around the house karate-chopping and kicking each other. This movie update will be lucky to inspire anyone to buy a ticket.

Grade: FINE PLUS (F+) 6.5 Out of a 10.0 Possible Comic Book Grading Scale.
Vinnie's 'Take':
(From a tween's POV)
We just came out of a mid-afternoon viewing of "The Green Hornet," and these are my thoughts on it.
When reading this, you should know that I have not had much prior knowledge of the Green Hornet. The only knowledge of it I have is from the few episodes I have seen with my father. These were from the 1967 Green Hornet TV series starring Van Williams and Bruce Lee.
What I liked about this movie was the humor and the action.
I will admit that most of this humor was adult orientated, but I still found it funny. I also found it funny that the Green Hornet was kicking or hitting enemies that Kato knocked out or killed already, and he would exclaim sbout how awesome he did, although in reality, he did little to nothing.
My favorite parts about the action were mainly the fight scenes, but a few of the chases I enjoyed as well. What made me most enjoy the fight scenes was when Kato was fighting, and time "slowed." It didn't actually slow, but he felt it did as he concentrated. During this time, he was able to identify any weapons, and he easily manuevuered himself to react to anything the opponents did. It was as if he was "in the zone," you could say. Besides that, he was just awesome.
I can honestly say that there was nothing I didn't like in this movie. I loved the filming, casting, and even the songs used, although some may argure they weren't the best.
Although the rating is PG-13, I don't think I would recommend this to someone under at least 15. There was just a lot of adult humor, strong language, most of which was for no reason or purpose, and quite a bit of violence and blood. You wouldn't even have to to be a "hardcore" Green Hornet fan to enjoy this movie; just some interest in action films and you would enjoy this.
As you can see that I am overly thrilled by this movie, it shouldn't be a surprise that I am giving this movie, "The Green Hornet," a NEAR MINT (NM) a 9.4 out of a 10.0 possible comic book grade scale.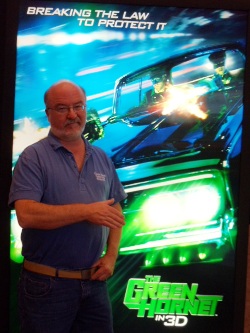 Michael's Take:
Well... I've hinted in this Blog a few times that I would love to see the 'Black Beauty' in action in this film. Especially after being up close to it back at the Comic-Con International: San Diego way back in 2009! Yeah, THAT long ago!
Sheesh! (See the two pics at the bottom right of this blog post for pics of Tina and myself in front of the Black Beauty at that 2009 SDCC!)
So, when my youngest son expressed his desire to see this film, I talked Tina into viewing it today at a mid-afternoon Saturday Matinee. As we are both still sick from a really bad cold we both caught in Las Vegas... Well, I thought it would be better to attend an earlier showing, without coughing and hacking away, interferring with the film.
Well... I was definitely pleased with the 'Black Beauty' in this film! Or should I say 'Black Beauties'! As there were at least three of them in the Reid Garage at the mansion.
The 'Black Beauty' was the highlight of the film for me. It was really cool to see it in action! And I'm NOT that much of an auto freak!
Kato, played by Jay Chou, came across really well in the film.
Britt Reid, a.k.a. The Green Hornet, played by Seth Rogen, was defintely NOT 'My' Green Hornet! Van Williams will stay that for me!
Lenore Case, 'Casey', played by Cameron Diaz, was both 'Hot' and 'brainy'. She just didn't see enough 'air time' IMO.
Christoph Waltz as Benjamin Chudnofsky, the villain, actually did pretty darn good in this film. Although the film was played for ;laughs', he actually rolled with the drama / comedy / action scenes.
David Harbour as D.A. Frank Scanlon... Well, it's NOT his fault that the film re-wrote his role that I 'knew' him as in the 1967 TV Series...
There was a 'nod' to the TV Series... Edward James Olmos played Mike Axford...
Tom Wilkinson as James Reid, Britt's wealthy father and successful newspaper publisher was a 'new' bit for me... But vital to the storyline.
Yet even with all of the above characters, and a lot more included, the overall film for me had a LOT of ups and downs.
Maybe I'm getting a little older... But I'm really starting to get annoyed with younger creators taking time honored and revered characters of yesterday and 'playing' with them, 'updating' them, and siccing them onto today's younger audiences as being 'THE' character.
We stayed till the very end of the credits, so yeah, I did see that this film was 'based' on the Green Hornet 'radio series', not the 'film serials' of before my time even, and definitely not the 'TV Series' of 1967.
Yet, that is what caused me to even want to see this film in the first place. Especially after seeing the 'souped up' Black Beauty at the July 2009 San Diego Comic Con!
To wait this long... (Read the Wikipedia entry for the Green Hornet film here as to why...!) And then end up with this uneven film... Well, I'm surprised myself as to the comic book grade I'm going to post here in a couple of paragraphs!
Did I enjoy seeing the film on the 'Big Screen'? Well yes, but I would have enjoyed it more if it was 'Brand New', and NOT building or destroying on time honored traditions of the Green Hornet, IMO.
Would I have gone to see this film if it didn't have that 'Green Hornet' tie-in? Probably not... Because of Seth Rogen's take on the title character, and seeing the trailers beforehand would have made me not really care to see the film.
The Black Beauty and Kato were the best things in this film for me.
Which are two of the three reasons I even re-play the 1967 TV Series episodes at times for Vinnie and myself. It's a shame that Britt Reid and the Green Hornet were 'dumbed down' so much.
I'm giving this 2011 Green Hornet film a VERY FINE MINUS (VF-) 7.5 on a comic book grading scale.
----------------------
The above reviews were from three people, from different age groups, (late baby boomer / a late tween / early baby boomer), and different levels of exposure to the 'Green Hornet' history, (a child during 1967 TV Series / not yet born / a teenager who loved the 1967 TV series).
Thus I believe the reason for the wide variance in 'comic book grading' this film!
Take the above, compare it to your level of knowledge of the Green Hornet, and decide for yourself as to whether or not to see it on the 'Big Screen' / '3D' it / or wait for the video. It cost us $25 in tickets to see this film, and it wasn't the 3D version...
----------------
My thanks to Tina and Vinnie for adding 'Their Takes' to this blog today!
PLUS: My thanks again to all of YOU reading this blog and our archived blog posts, now over 3,322 total posts in number! I do appreciate your continued reading and support of this Blog!
BTW, You can 'follow' this Blog by clicking the 'Follow' Button at this NetworkedBlogs app! We currently have over 2,150 'Followers'! Thanks to ALL of YOU that have already clicked that button! And for those of YOU that haven't yet...I would appreciate it if YOU would!!!
~ Michael D Hamersky, of 'Michael D Hamersky On Comics' - my New Facebook Fan Page, and Facebook Comic Con | Make It So Marketing - my Facebook Group Page which is under the 'virtual umbrella' of 'Facebook Comic Con'! Plus of course this blog...
ComicBookCollectorsBlog.com
!

Note: Our online comic book shop carries many different genres of comics, magazines, graphic novels, and comic con promotional items at the link seen below.
http://www.comicbookscircus.com/
---
"Hammering Out the Web For You Since May 12th, 1998!"

Note: If you are breaking into, or already work in the comic book industry or other pop culture productions, you are welcome to email us press releases, news items, and updates that you feel would be of interest to our blog readers. Including YOUR own works!

To mail printed items to us for possible review, send to:

Make It So Marketing Inc.
PO Box 130653
Carlsbad, CA 92013

ComicBooksCircus.com - It's Under The Big Top Of Comics! Click the Above Circus Tent to See Our Current Listings!

My thanks to those of YOU that have read today's blog post! I do appreciate that!

For those of you that didn't know me before today... I first set up as a 'dealer' at the 1972 San Diego West Coast Comic Con (SDCC) at the El Cortez Hotel. So I've been around comic conventions for a little while, LOL!

My wife Tina and I now have an on-line exhibitor (dealer) table at the first "virtual" comic con titled the "Facebook Comic Con" (FBCC)! Plus I have a chapter in a new book that was just published in December of 2010, that is pictured above, "Gotham City 14 Miles"! Click here to become a 'Fan' of the GC14M Facebook Fan Page!

You can view our dealer table and interact with us there on Facebook by clicking this link, which takes you to our table named: 'Facebook Comic Con | Make It So Marketing'.

So if YOU are a Facebook member, please 'join' our Facebook Comic Con - Make It So Marketing exhibitor table for updates, specials, links to this blog, and other wall comments that we post every day!


Also, if you are a Facebook member and would like to also join my Facebook Network, feel free to send a 'friend request' to 'Michael D Hamersky'. Please Note: I have reached the maximum of 5,000 Facebook Friends and Fan pages already, so it might be a while before I am able to accept your request. Just send a message along with the invite that you saw my Blog!

-------------------

Talking about comics: if YOU are a comics creator, (writer, penciler, inker, colorist, letterer, etc.), OR even a Comics / Magazine Publisher, feel free to contact me regarding YOUR works for a possible mention / review!

I've made a special blog post about: "How To Best Submit YOUR Publication For Possible Review!" for those creators / publishers that would like to possibly have their publications mentioned or reviewed. Just click on the link provided in this paragraph!

~Michael @ ComicBookCollectorsBlog.com

WEB PAGE NOTE: This blog post is written for the IE Browser standards. Chrome, Safarai, Netscape, Firefox and the others serve the page up differently, sorry about that!

The screen display resolution is best seen at the setting of 1024 x 768 on your laptop or desktop computer.

NOTE: All images and characters within this blog post are copyright and trademark their respective owners.
Posted by makeitsomarketing at 12:01 AM PST
Updated: Sunday, January 16, 2011 7:09 AM PST