Our Take On: The Iron Man 2 Film - Part I - From a Comic Book Fan's POV
Mood:
a-ok
Topic: Comic Book Movies



Above: The 'Black Widow' in the Iron Man 2 Film Poster Used In France!

At The Top Left: Iron Man 2 Film Poster With a Lot of the Cast in the Movie!

At the Bottom Left: At Last...Pepper Potts Given Star Billing, as Seen on the French Poster!
TODAY'S FEATURE - Blog #3128:
Tina and I just got back in from viewing the Iron Man 2 Film at one of our theater choices. No, not in IMAX, but in stadium style seating. My 'Take' on this film will be posted first, tonight, with hers to follow tomorrow morning....

Usually we see the comic book movies on their Opening Day, but with the staggered world-wide release schedule for this film, it didn't make that big of a deal for us to be there on opening day what with our schedules...

Also, there are just minor SPOILER ALERTS here. Because after all, I am just blogging my reactions to the film in general, not in specific scenes, (for the most part).

Additionally I am doing something different in this blog post, as it is so late, it's 7PM PST here in the San Diego area, and I want to get this blogged ASAP.

So I'm going to post what I believe are my thoughts on the PROS / CONS / SUGGESTED VIEWING FOR / AND MY RATING. Here's 'My Take':

PROS:

Tony Stark / Iron Man / Robert Downey Jr. - Excellent continuation of the Tony Stark that I enjoyed in Iron Man 1.

'Natalie Rushman' / Natasha Romanov' / "Black Widow" / Scarlett Johansson - Although not named as such (Black Widow), her real appearance near the end of the film showed how useful she could be, besides being eye candy!

Virginia 'Pepper' Potts / Gwyneth Paltrow - More screen time this time AND worth the wait! Plus the ending scene was alright in my book!

Whiplash / Ivan Vanko / Mickey Rourke - 'Humanized' with the cockatoo scenes. I'm glad that he (Mickey) suggested bringing the bird in to the director!

Justin Hammer / Sam Rockwell - Darn good acting in this role. My only thought was that in the comics, Justin was a much older man. Here in this film he is about Tony's age. Not Sam's fault, and he plays this role very well.

Nick Fury / Samuel L Jackson - More screen time in this film. Mostly good for me, however, just like in the Marvel Comics, I feel there is a 'continued' story going on. Will it upset mainstream film goers that there is this 'to be continued story' subplot going on...???

Happy Hogan / Jon Favreau - I'm glad that Jon gave himself more screen time in this film! I'm a fan of the old Pepper Potss / Happy Hogan / Tony Stark triangle from the really old days!

CGI usage - Not as overbearing or as tedious as in the 1st Film. The fight scenes were not as long, which was good for me! I have found I don't like the long drawn cartoonish CGI scenes in these comic book movies.

Senator Stern / Gary Shandling - Really came across well in this role.

JARVIS / Voice of Paul Bettany - The interchange between JARVIS and Tony was even better this time.

Christine Everheart / Leslie Bibb - Nice to see Leslie reprising her reporter role from the 1st Film.

The Iron Man Armors - Still enjoying the designs by Adi Granov who was involved with both the 1st and 2nd Films!

Stan Lee / as '___" - Well, I'll let you figure that one out! But I did enjoy the cameo...'Nuff Said!

CONS:

Lt. Colonel James 'Rhodey' Rhodes / War Machine / Don Cheadle - Didn't have the 'good buddy' rapport down as well in this film. Due to change in actors for this film?

The continual references to S.H.I.E.L.D. - made me wonder if I was watching an Iron Man Film or a conspiracy film. Just a minor con... but since I know that these Marvel superhero films are to be continued later in the 'Avenger Initiative', I'll live with the 'to be continued' parts of these films for now...

The final ending song that started with the credits by AC/DC. 'Highway to Hell', which I thought was a little out of place for this otherwise Family Viewing Film.

You know, as I sit here blogging, I realize there were very few cons for me in this film... The storyline was well paced / well directed / well acted!

THIS MOVIE IS SUGGESTED VIEWING FOR:

This 2nd Film was made for family viewing IMO. Unlike the 1st Film which had the torture scenes, and was a little 'darker' in scope.

Plus this 2nd Film had less sexual innuendo in it. Maybe because of Tony's discovery of what the armor was doing to him?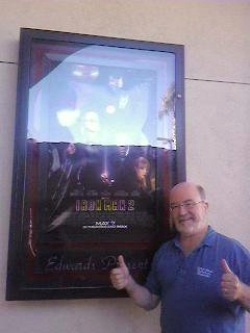 RATING:
Near Mint Minus (NM-) 9.2 - This 2nd Film appealed to the 'fanboy' in me. And when I say 'fanboy', I mean way back to 1963 when Iron Man first started in 'Tales of Suspense' #39!
And by the way... Here's the Link to 'My Take' on Iron Man 1: http://bit.ly/dCL7Tk which I gave an 8.5 out of 10.0 in the comic book grading scale!
One last thing... And I couldn't let this review end without saying something about in particular about the film. But Please Note:
!!!SPOILER ALERT!!!!
I waited for YEARS for something to happen between Pepper & Tony...Sheesh!
!!! END - SPOILER ALERT!!!!
My thanks to Tina LoSasso for attending this Opening Weekend with me and looking forward to reading her review in tomorrow's blog post.
I'll copy it here for all to see at that time!
AND My thanks again to all of YOU reading this blog and our archived blog posts, now over the 3,125 total posts in number!
~ Michael D Hamersky @ ComicBookCollectorsBlog.com

Note: Our online comic book store carries many different Marvel Comics titles including IRON MAN Comics at:
http://www.comicbookscircus.com/
---
"Hammering Out the Web For You Since May 12th, 1998!"

Note: If you are breaking into, or already work in the comic book industry or other pop culture productions, you are welcome to email us press releases, news items, and updates that you feel would be of interest to our blog readers. Including YOUR own works!

To mail printed items to us for possible review, send to:

Make It So Marketing Inc.
PO Box 130653
Carlsbad, CA 92013

Check Out More Of Our Own Endeavors:

Yeah, that's me in the photo shown to the left, taken at the 1973 San Diego Comic Con!

I first set up as a 'dealer' at the 1972 SDCC at the El Cortez Hotel. So I've been around comic conventions for a little while, LOL!

Tina and I now have an on-line exhibitor table at the first "virtual" comic con titled the "Facebook Comic Con" (FBCC)!

You can view our table and interact with us there on Facebook by clicking this link.

So if YOU are a Facebook member, please 'join' our Facebook Comic Con - Make It So Marketing exhibitor table for updates, specials, links to this blog, and other wall comments that we post every day!




Also, if you are a Facebook member and would like to join my Facebook Network, feel free to send a 'friend request' to 'Michael D Hamersky'.

-------------------

Talking about comics: if YOU are a comics creator, (writer, penciler, inker, colorist, letterer, etc.), OR even a Comics / Magazine Publisher, feel free to contact me regarding YOUR works for a possible mention / review!

I've made a special blog post about: "How To Best Submit YOUR Publication For Possible Review!" for those creators / publishers that would like to possibly have their publications mentioned or reviewed. Just click on the link provided in this paragraph!

~Michael @ ComicBookCollectorsBlog.com

WEB PAGE NOTE: This blog post is written for the IE Browser standards. Chrome, Safarai, Netscape, Firefox and the others serve the page up differently. The screen display resolution is best seen at the setting of 1024 x 768.

NOTE; All images and characters within this blog post are copyright and trademark their respective owners.
Posted by makeitsomarketing at 2:10 PM PDT
Updated: Saturday, May 8, 2010 8:27 PM PDT