Our Take On: The Iron Man 2 Film - Part 2 - From a Woman's POV
Mood:
a-ok
Topic: Comic Book Movies



Above: One of the Iron Man 2 Film Posters With A Lot of the Main Cast!

At The Top Left: Iron Man 2 Film Poster With Tony Stark a.k.a. Iron Man!

At the Bottom Left: Don Cheadle as Rhodey / War Machine!
TODAY'S FEATURE - Blog #3129:
Tina and I viewed the Iron Man 2 Film yesterday at a local theater. I've already posted Part I of this blog series. (Click here for Part 1.) Here is Part II as guest blogged by Tina:

Iron Man 2: Course Corrected

My impression of Iron Man 2 is that Favreau and Co. held a focus group and made some adjustments from the first wildly popular film to try to give this one even more mass appeal.

For one, the movie was clearly more family-friendly – without losing any of the fun or thrills. While the original Iron Man was riddled with corpses, multiple scenes of torture and civilians being killed, this new and improved Iron Man keeps the killing off-camera. The only "thing" you see biting the dust are machines. (Yes, The Black Widow goes on a rampage through Hammer headquarters, but that's ass-kicking, there's no bloody shooting, stabbing, blowing to smithereens as in Tony's adventures in Afghanistan.)

Kids and parents will be less uncomfortable watching together since Tony's not bedding giggling girls or cracking wise about every woman in sight as he did in the first movie. In fact, he mostly gets shot down – and not just by his leggy assistant, Pepper.

The pacing of IM-2 was also a welcome change. The action is spread throughout the movie with less extended fight scenes. Interestingly enough, the most exciting and tense fight sequence is between Tony Stark and best buddy, Rhodey, soon-to-be War Machine. It's tense because there's so much at risk: the onlookers, Tony's incredible mansion, and most importantly, the friends' survival and that of their relationship.

The final battle between villain and hero is over quickly without the extended (yawn…), bloated, cartooney CGI of the first movie.

Another big change is the switch in actors playing Rhodey. My husband, Michael, tells me that they didn't replace Terrance Howard because of his performance, more like his inability to get along. The casting of Don Cheadle reminds of how amazing this cast is: we've got Oscar nominated and winning actors in Downey, Paltrow, and Johanssen, now Cheadle. I admit - I love him in most anything he does. Again, he doesn't disappoint.

While I enjoyed most of the movie – much of it even more than the first – there was a downside: way too much time devoted to trying to get me interested in The Avengers. Samuel L. Jackson held my interest but otherwise, sorry, no sale. Will Tony be asked to be an Avenger? Will he want to be one? What do they do? Who cares? Not me. I was much more interested in Tony, Tony's health (that palladium is ruining it!), Tony and Pepper, Tony and Rhodey, and (yes, I'm a crazy bird lady) the fate of Whiplash's cockatoo.

Mickey Rourke was an excellent villain – subtly menacing. Heck, he's scary enough looking, he doesn't need to go around beating people up like most movie bad guys. It was much more interesting and tense to watch him not take someone down. You kept waiting for it.

Having spent a good part of my childhood at the '65 World's Fair, I loved the Stark Expo set and the significance of the big Unisphere – I'll never look at my beloved souvenir pin the same way again! Halfway through the movie I thought I was watching an episode of LOST as Tony watched old films of his Dad and finally got some closure. Do all super-heroes have Daddy issues?

Whether you compare IM2 to the original, you'll still enjoy it. While I love an origin movie, I loved this sequel – more action, more fun, less silly CGI fight scenes, more family-friendly. Kids will love the exchange between Iron Man and a little boy in the midst of the last big battle!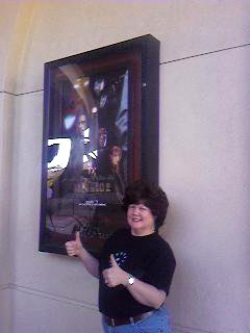 RATING:
I give it a 9.2 – that's Near Mint Minus (NM-) on the Comic Book Grading Scale!
------------------------------
Thanks, Tina for your above review and the rating!
And by the way... Here's the Link to Tina's earlier 'My Take' on Iron Man 1: http://bit.ly/abTIOE which she gave an 8.75 out of 10.0 in the comic book grading scale!
AND My thanks again to all of YOU reading this blog and our archived blog posts, now over the 3,125 total posts in number!
~ Michael D Hamersky @ ComicBookCollectorsBlog.com

Note: Our online comic book store carries many different Marvel Comics titles including IRON MAN Comics at:
http://www.comicbookscircus.com/
---
"Hammering Out the Web For You Since May 12th, 1998!"

Note: If you are breaking into, or already work in the comic book industry or other pop culture productions, you are welcome to email us press releases, news items, and updates that you feel would be of interest to our blog readers. Including YOUR own works!

To mail printed items to us for possible review, send to:

Make It So Marketing Inc.
PO Box 130653
Carlsbad, CA 92013

Check Out More Of Our Own Endeavors:

Yeah, that's me in the photo shown to the left, taken at the 1973 San Diego Comic Con!

I first set up as a 'dealer' at the 1972 SDCC at the El Cortez Hotel. So I've been around comic conventions for a little while, LOL!

Tina and I now have an on-line exhibitor table at the first "virtual" comic con titled the "Facebook Comic Con" (FBCC)!

You can view our table and interact with us there on Facebook by clicking this link.

So if YOU are a Facebook member, please 'join' our Facebook Comic Con - Make It So Marketing exhibitor table for updates, specials, links to this blog, and other wall comments that we post every day!




Also, if you are a Facebook member and would like to join my Facebook Network, feel free to send a 'friend request' to 'Michael D Hamersky'.

-------------------

Talking about comics: if YOU are a comics creator, (writer, penciler, inker, colorist, letterer, etc.), OR even a Comics / Magazine Publisher, feel free to contact me regarding YOUR works for a possible mention / review!

I've made a special blog post about: "How To Best Submit YOUR Publication For Possible Review!" for those creators / publishers that would like to possibly have their publications mentioned or reviewed. Just click on the link provided in this paragraph!

~Michael @ ComicBookCollectorsBlog.com

WEB PAGE NOTE: This blog post is written for the IE Browser standards. Chrome, Safarai, Netscape, Firefox and the others serve the page up differently. The screen display resolution is best seen at the setting of 1024 x 768.

NOTE; All images and characters within this blog post are copyright and trademark their respective owners.
Posted by makeitsomarketing at 12:01 AM PDT
Updated: Sunday, May 9, 2010 4:07 AM PDT