Semantink's Comic Savvy Meetup - August 21st of 2011
Mood:
caffeinated
Topic: Comic Cons
A Report On The

-

-

-

Video Above: Three Minutes Of One Of The Earliest Discussions Held At The August 2011 Comics Savvy... The Topic: Cowboys & Aliens Film That Had Been Released Since The Last Meetup!

-

Top Left Column: Logo for Semantink Publishing, Host Of This Monthly Meetup!

-
TODAY'S FEATURE - Blog #3490:
This 'report' is on the August 2011 Semantink's Comic Savvy meetup that was held last night at the Milano Coffee Co. in the Mission Valley area of San Diego, California!
Here is the link to the Facebook Comic Savvy 'event page' for this meetup. Even more attended than had clicked the 'attending' link, which was great! There is no charge to attend... And you have an opportunity to order food and drink from Milano's menu as well!
Chris Henderson moderated the meetup last night, which was a little hard to do, as several persons showed up later. There were some other activities going on in So Cal affecting the attendance, and we actually had one person drive down after attending the Los Angeles Comic Book & Sci-Fi Convention that also ran on Sunday. So there were good reasons for the late arriving crowd last night!
Chris started several good conversations, and the above video from my new YouTube Channel, at 'Hamersky On Comics' was just one of them. This one that I filmed was on the recent movie, 'Cowboys & Aliens'.
Talking about comic book movies... My question last night to all who were present at the time, (20 of the 25 who attended), was also on 'comic book movies'. There were actually five (5) that had been released since the July 2011 meetup. I considered the "comic book" movies to be ones that had been based on comic books, OR have had comic books (one shots or series) based on the films. You'll notice that there was mixed reactions to the films:
| | | | | | |
| --- | --- | --- | --- | --- | --- |
| | Capt. America | Cowboys & Aliens | Smurfs | Rise Of Planet of Apes | Conan the Barbarian |
| Liked | 14 | 2 | 0 | 7 | 0 |
| So-So | 0 | 5 | 2 | 0 | 0 |
| Disliked | 0 | 0 | 1 | 0 | 0 |
| Did Not See | 6 | 13 | 17 | 13 | 20 |
| Total | 20 | 20 | 20 | 20 | 20 |
After the tallying, I then got up and mentioned that I was passing out post card sized prints of a new illustration by one of my newest clients, 'Barbara Marker Artist, whose new Facebook Fan Page I had built and promoted just before the San Diego Comic Con International took place. You can find the print at this link, and I encourage you to 'LIKE' that Facebook Fan Page while you are there!
On the back of one of the prints was a yellow dot, which indicated that person won the free prize I was giving away last night... The review copy of the new 'Conquest of the Planet of the Apes' hard cover book from Archaia Entertainment that Tina LoSasso had recently review blogged in blog #3485. There was a lot of oohs & aahs on this prize, as the new 'Apes' film is out in theaters, and as you cans see by the chart above, the 7 who had seen it, had all liked it! So 'Apes' is 'Hot' right now with those attending!
There were additional topics brought up, and several persons had their own projects to discuss. I'll be mentioning those persons later as those projects are closer to completion.
There is a contest happening right now for the cover of the special Zombie Kill Squad. I'm suggesting you vote for both Rich Kuhaupt, and Daniel Touchet's entries!
One person, Joel Elad, who is the co-promoter of the upcoming So Cal Comic Con that Tina & I will be setting up at NEXT Saturday, also arrived to this meetup for the first time. He had just driven back from the Los Angeles Comic Book & Sci-Fi Con, where he was passing out flyers for his con. I introduced him, and he passed out flyers for his upcoming show. If you are in the Southern California area this upcoming Saturday, August 27th... Check out this link for the So Cal Comic Con event page and then join us!
That's about it for today's blog... I'm no longer posting multiple pics here at the the blog from the meetups that I attend. Instead, I'm now posting most of those pics taken at special albums at my own Facebook Fan Page. This month's meetup pics can be found here when uploaded: August 2011 Semantink's Comic Savvy. If you attended or know of those pictured and are Facebook Friends with them... Feel free to 'tag' yourself or them! Plus, my thanks to Andrew Rakestraw for taking additional photos for me, so that I could be included in the photo album!
Again, my thanks to the hosts of this monthly meetup, Semantink Publishing, who have several online comic book series that you should be checking out if you enjoy reading online / downloadable comic books!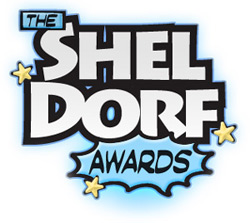 ~Michael D Hamersky - who is asking you for your vote in the current voting going on over at The Shel Dorf Awards web site. I was nominated for 'Comic Blogger of the Year' on Monday, August 8th! While being honored to be nominated, I'd also like to win! The competition has some other good nominees for the same category I was nominated for, so I'm asking for your help on this!
Voting online ends September 4th... And there are several categories to vote in... I'm only mentioning the 'Comic Blogger of the Year' here, so as not to play 'favorites' with the others nominated in the other categories!
If you have enjoyed this blog or any of the others in the now over 3,489 blogs in this series of mine, I'd appreciate your vote!
Here is a direct link to the voting page. 'Comic Blogger of the Year' is the category, and 'Michael Hamersky On Comics' is the name I'm listed as to vote for.
Here is a link to blog #3481, where I went more into depth on this topic.
My thanks to any of you that take the time to vote for me!
---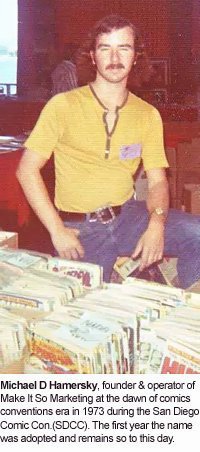 NOTE FROM THE BLOGGER:
My thanks again to all of YOU reading this blog and our archived blog posts, now at 3,490 total posts in number! I do appreciate your continued reading and support of this Blog!
BTW, You can 'follow' this blog by clicking the 'Follow' Button at this NetworkedBlogs app link! We currently have over 2,529 'Followers'! Thanks to ALL of YOU that have already clicked that button!
And for those of YOU that haven't yet... I would appreciate it if YOU would!!!
~ Michael D Hamersky
Note: My online 'Local' Comic Book Shop (LCBS), carries many different genres of comics, magazines, graphic novels, and comic con promotional items. Possibly even copies of the item(s) that was mentioned here today...!
If I have it... You can find it 'Under The Big Top Of Comics' at:
http://www.ComicBooksCircus.com/
Web Page Note: This blog post is written for the IE Browser standards. Chrome, Safari, Netscape, Firefox and the other browsers serve the page up differently, sorry about that!
The screen display resolution is best seen at the setting of 1024 x 768 on your laptop or desktop computer. Note: As of Monday, June 27th, 2011, I'll be using my new laptop, where the default resolution is 'higher', so there may be some temporary glitches until I am used to the new resolution.
NOTE: All images and characters within this blog post are copyright and trademark their respective owners.

Comics Creators: If you are breaking into, or already work in the comic book industry or other pop culture productions, you are welcome to email or mail us press releases, news items, and updates that you feel would be of interest to our blog readers. Including YOUR own works!
To mail printed items to us for possible review, send to:
Make It So Marketing Inc., PO Box 130653, Carlsbad, CA 92013

Also, if you are a Facebook member, I would have liked you to send me a 'Friend Request'. However, I have reached the maximum limit of 5,000 Facebook Friends and Fan pages already, so I've added a New 'Facebook Fan Page' so that even more of YOU can 'Like' what I am doing, and be interactive with me and others there. Here is the link to that 'Facebook Fan Page': Michael D Hamersky On Comics! Please click the 'Like' button on that page!
---
Posted by makeitsomarketing at 5:26 AM PDT
Updated: Monday, August 22, 2011 7:11 AM PDT